Dear HVTT Forum members,
I'm pleased to be writing the (belated) November 2022 edition of the HVTT Forum newsletter.
A few things have diverted my efforts from getting the newsletter out during November, none more so than the work which is now well underway for our joint HVTT17/ICWIM9 conference. I'll have more to say about that later in this newsletter. I'm going to go straight to the subject of weather. While it is customary to end HVTT Forum newsletters on this topic, weather events during 2022 have directly impacted on all things transport across Australia. The resilience of Australia's road transport industry has again been on display during 2022, with severe weather and flooding have impacted the operation of road and rail transport, and supply chains more generally.
Flooding in regional areas across the Australian states of New South Wales and Victoria forced heavy vehicle operations to take long detours to transport essential goods and produce to regional centres. There's a long-standing saying that 'Without trucks Australia stops'. With recent weather events, and the dependency on heavy vehicles to provide communities with essentials, more people are saying 'Without trucks Australia starves'. It brings home the heavy vehicle industry's importance to the functioning of our economy and society.
With this weather (hopefully!) behind us, discussions have now turned to the remediation of damaged road infrastructure. Peak bodies are calling for a significant increase in government funding to repair damaged infrastructure. In the meantime, transporters have been facing additional wear and tear costs from their vehicles operating on damaged roads.
There will be more dialogue on this front as we move into 2023.
Noteworthy developments from Australia
I'm pleased to report that the weather events of 2022 have not dampened the efforts in progressing heavy vehicle-related reforms. These reforms span numerous areas of activity under the direction of Australia's transport Ministers, including:
The National Heavy Vehicle Regulator (NHVR) has continued to introduce the National Services Transition (NST), which involves regulatory services being brought under one umbrella to provide greater consistency in regulating heavy vehicles and drivers across Australia's states and territories. During August, regulatory services in the large Australian state of New South Wales were transitioned to the NHVR. Work is now underway in transitioning regulatory services in the state of Queensland from the end of 2023.
Austroads has been leading work on a review of the National Driver Competency Framework. With the growing freight task, changing vehicle fleet and industry-wide driver shortages, the review is focussing on the skill and competencies of different licence classes, and how behind-the-wheel experience can allow drivers to progress to higher licence classes (and larger, heavier vehicles) more rapidly. A Decision Regulation Impact Statement (D-RIS) is scheduled to be finalised for presentation to Australian transport Ministers during 2023.
Transport Certification Australia (TCA) has been leading work with road agencies in the Australian states of Victoria, New South Wales, Queensland and Tasmania to introduce new productivity and access opportunities using Smart On-Board Mass (OBM) systems. Smart OBM enables vehicle location, configuration and mass to be fused together – allowing infrastructure managers to better understand how their roads and bridges are being used. And as foreshadowed in a paper presented to HVTT15, Smart OBM is now allowing us to re-engineer road networks by increasing the load limits of bridges (by reducing safe load factors when performing bridge assessments) – realising productivity gains which flow through supply chains and the Australian economy.
One other noteworthy development I'd like to acknowledge: Les Bruzsa was inducted into the National Transport Hall of Fame in August. The Hall of Fame highlights the contribution that road transport, as an industry, has made to the economic wellbeing of Australia through the development of our wealth-producing industries and the ingenuity of our trucking pioneers. The Hall of Fame acknowledged Les' contributions to the heavy vehicle industry, specifically leading the strategic development and improvement of the Performance-Based Standards (PBS) scheme.
On behalf of all of us at the HVTT Forum, congratulations Les!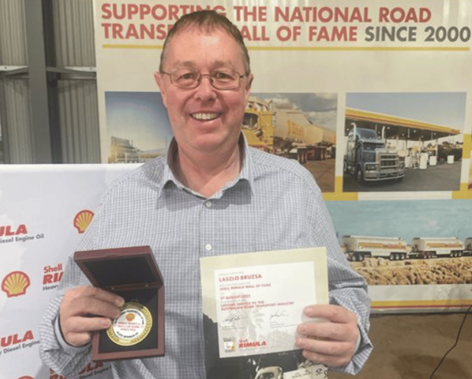 Technology Convergence 2023 (Joint HVTT17/ICWIM9 Conference)
Preparations are now well advanced for next year's joint HVTT17/ICWIM9 conference.
The theme of the conference is Technology Convergence 2023 – Setting the Wheels in Motion: Reimagining the Future of Heavy Vehicles, Roads and Freight, which highlights how vehicle-based technologies and road-based technologies are changing the way we deliver improved productivity, safety and environmental outcomes.
If you still need to do so, make sure you put the dates of the joint conference in your calendars:
6 to 10 November 2023 in Brisbane, Australia.
Since we made the first announcement and call for abstracts in mid-August, we've been delighted with the response we've received. We've received 101 abstracts, with 64 relating to subject areas of interest to the HVTT Forum community.
A big thank you to everyone who took the time to prepare an abstract and to those currently peer-reviewing abstracts under the guidance of the Joint Scientific Committee.
The Joint Organising Committee met for the first time in early December. As the joint leaders of this Committee, Chris Koniditsiotis and I have formed a stellar ensemble of local and international leaders who will help make our joint conference a success. I'd like to specifically acknowledge the representatives from Australia and New Zealand who are taking time out of their busy schedules to be part of the Organising Committee:
Les Bruzsa (National Heavy Vehicle Regulator)
John Gordon (Transport Certification Australia)
Raewyn Fisher (National Transport Commission)
Richard Yeo (ARRB Group/NITRO)
Chris Rodley (Waka Kotahi New Zealand Transport Agency)
Roger Sack (Tramanco)
Below is a screenshot from our first meeting.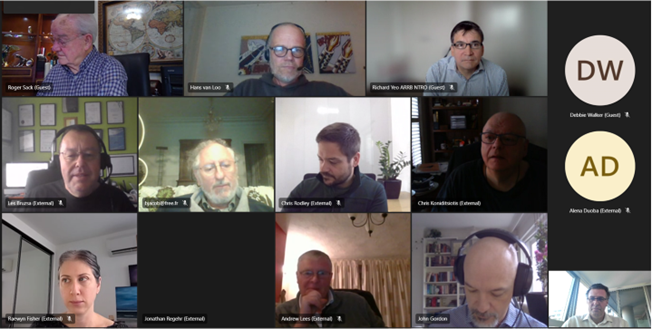 During the early stages of 2023 we'll be releasing further information about the joint conference, including details of the program, ticket packages for delegates and sponsorship opportunities.
On that note, I wish you a Merry Christmas and a prosperous New Year.
I look forward to seeing you all in Brisbane in November 2023!
Gavin Hill
HVTT Vice-President: Australasia and the Pacific