News from Road Transportation in South America
Hello everyone, one year on and we are still dealing worldwide with the COVID19 pandemic. In my previous newsletter I described what was going on with the truck drivers in the region, the discrimination they suffer although considered essential workers. "Focus on Transport", a road transport magazine from South Africa, thought the contents of that newsletter were relevant for its readers and asked us to published it, it came out in the December issue, just as the new variant in S.A. was known. COVID 19 in South America, many lessons learnt. After reading HVTT's February newsletter, I can understand why. So, I am delighted to inform that, in line with World Health Organization (WHO) guidelines, this March the Brazilian Ministry of Health included transportation professionals from all over Brazil as a priority group to receive the COVID-19 vaccine.
So, what else is going on at this time around here? Please remember that from December, all the way to the beginning of March, most of our countries go on holidays. However, Uruguay has implemented the legislation for High Performance Vehicles- VAD in Spanish-, which was signed by the president last November. So in short, from the start of the feasibility study to the recommendations, development of the regulation and its implementation, less than two years have passed. Impressive, isn't it!
In a simple but thorough way, those who want to request a VAD, can do so through the webpage VUCE (Ventanilla Única de Comercio Exterior, in English Single Window for Foreign Trade). The VUCE platform allows the user to identify all the documentary requirements associated with a foreign trade operation and for each of the procedures in question, send the electronic application and attach the digitized documents required as a requirement of the procedure. Through the platform, the information is referred to the corresponding competent body, which acts electronically on the process, being able to approve, reject or observe the management.
The name of the procedure in VUCE is "AVAD", and it includes the choice of three types of VAD: truck and semi 48ton, bitrain and tritrain.
The last two need to include the PBS report from an accredited organization, translated officially into Spanish. The list of accredited organizations is provided by the Ministry of Transport and Public Works MTOP, and includes those from New Zealand, Australia and South Africa. As per recommendations that emerged from the High-Performance Vehicles Feasibility study, where other HVTT members such as Bob Pearson, John Woodrooffe, Anthony Germanchev from ARRB and Willy Hughes participated, companies looking to work with VADs need to specify a type of cargo they will transport and identify the corridor where they wish to operate. A sample of the document can be seen here.
While for the time being only 3 B-triples carrying logs have the permit, over 500 applications for the 48ton truck and semi have been requested, and these configurations include compulsory road transport technology devices such as ESC, speed limiters, On Board Management systems -OBM-, among many other elements to provide better road safety.
About my friend Willy Hugues -retired from Scania Argentina after 46 years-, I saw a 2011 drawing of his in a presentation at a conference in Colombia yesterday. That same green vehicle was also used by the Argentinean president in 2014 to explain "what is a bitrain", before the decree approving their use was signed. Nothing like something simple to explain and understand to live on! I just had to make a picture of it.
Colombia has entered the OECD last May and is looking to enter the International Transport Forum. Colombia has an ambitious CO2 reduction target of 51% by 2030. Given that more than 90% of its transport is by road, one of the proposals for reduction is, besides investment in railways, ports and riverways … yes, you guessed right… High Performance Vehicles, or VCCs -combined cargo vehicles- as we recommended to call them in 2013, when we were invited with Bob Pearson for a workshop with transport users. Since then, many trials and draft legislations have not seen the light of day. Maybe the decarbonization agenda will give it a push this time.
Not to make this newsletter too long, March the 8th International Women's Day was commemorated, and I wanted to thank the magazine Truck Planet for choosing me as one of the faces of women in road transport. It was a pleasant surprise.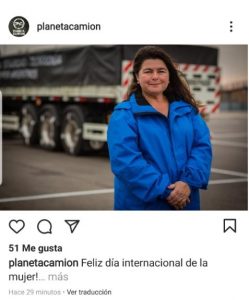 As per tradition, let´s talk about the weather! Entering in Autumn, I am afraid, after a pretty hot summer. Regardless of the high number of COVID cases, there was no way governments were going to be able to keep the population at home!
I look forward to meeting you -virtually- in Qingdao at HVT16. I am sure we shall have plenty to share there.
Ale Efron
HVTT Vice President: Central and South America